Hop Step Jump English School is looking for a new teacher!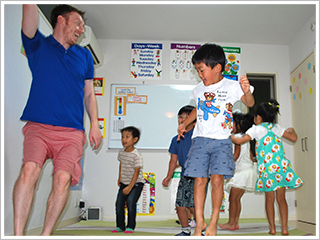 Hop Step Jump English school is a small but growing school, operating in Shizuoka since 2012. We currently have two studios (Yaizu and Fujieda). We provide opportunities for effective teaching and learning for around 150 students, aged between 3-12 years old, and our passionate and enthusiastic team strives to ensure they achieve their full potential.
Our classes are small, with a maximum of six students per class, to enable students to interact with English speakers as frequently as possible, but also to enable teachers focus on students individual needs.
In return for your passion for delivering a quality education we offer great working conditions, a competitive salary and fantastic career development opportunities. You will gain an outstanding experience in a warm and caring, yet at the same time dynamic and fun environment.
Position
English Instructor – Eikaiwa
Full-Time/ Part-time position
Monday- Friday 13:00~20:30 (up to 35 hours per week) Teaching hours may vary. (On average three/ four 50 minute lesson per day)
Teaching Location
Hop Step Jump Yaizu Studio
Hop Step Jump Fujieda Studio
Various Kindergartens in Yaizu City and Fujieda City
Successful applicants
To be considered for this position you will be an experienced and energetic educator who is able to work as part of a small team. This is an excellent opportunity for an outstanding and creative teacher who can provide professional expertise, and high quality teaching and learning.
Ideally applicants will have experience of teaching phonics, and will provide good classroom management, time management and provide balanced, fun and engaging lessons.
Successful applicants will be encouraged to contribute to the development of the school and its students, and will be rewarded for their development.
Requirements: Native English speaker or native level. Appropriate visa (minimum one year working visa required. Sponsorship available.) Applicant must currently reside in Japan. Applicant must have at least two years experience working with young children in Japan. TESL/TEFL/TESOL certification preferred. Japanese speaking ability preferred.
For more information please contact us: contact
We will do our best to reply within three working days of receiving your e-mail.
If after 3 working days you fail to hear from us, please call us at the following: 050-5587-3030 to confirm that we received you initial e-mail.